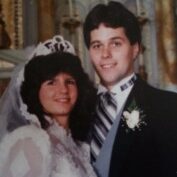 Jim & Donna on their Wedding Day 1987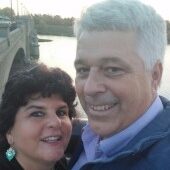 Our Founders
Our names are Jim and Donna Murphy. Heaven's Gain started out of our own miscarriage experiences at 9, 14, and 17 weeks. We were frustrated that we were unable to find a little baby casket for any of our miscarried babies. Even a casket for early stillborn baby was difficult to find.
We believed each miscarried and stillborn baby is truly a loss. Proper burial of our miscarried/stillborn babies in a little casket was very important to us. Even after diligently searching, we were not able to find a little baby casket or tiny coffin for any of our miscarried babies. We did not want any other family to be in this situation and so we start Heaven's Gain. It is so important for us to offer dignified caskets and urns for families experiencing the loss of a baby.​ We also offer support , advocacy, and guidance for grieving families. We hope we can serve as a part of your healing as your grieve your baby
Blessings,
Jim and Donna
The Founders Family
Donna and Jim are the parents of eleven children: three in Heaven, and eight on earth. They have seven biological children. Their rainbow baby (baby after the storm), grew in their hearts and not in Donna's womb. They adopted a little girl in December of 2009 whom they had fostered since she was two days old. She is a blessing to their family.
After feeling the call to start the ministry, Donna and Jim researched during the entire year of 2007, and opened the ministry in February of 2008. They contracted skilled wood crafters to make the baby caskets.
What started out in their home is now located at 6962 Harrison Avenue in Cincinnati Ohio.  Jim and Donna, continue to work as volunteers with Jim continuing to craft urns and caskets, as well as being vice president on the board. Donna is the Executive Director, Loss Doula, and Grief Counselor. We hope the information on our website is helpful to you. We are here to answer your questions regardless of whether you make a purchase. We hope that our ministry is helpful to you in acknowledging your grief, affirming the dignity of your baby, and promoting your healing.
Our Board
Our board consists of four volunteer members: Jim, Paula, Linda, and Dave.
Our Staff
They have three part time assistants, Sherry, Emily, and Kim. They help us craft the interior of our caskets, fill orders, and so much more.
We have volunteers who sew: Mary and Gayla.
We have a volunteer IT consultant, Julian.
We have a volunteer editor/technical writer, Diana.
Why we offer information
Our ministry, Heaven's Gain, provides help to those suffering a death of a baby, either during pregnancy, due to premature birth, or newborn death. Our goal is to support the family in their time of grief, to provide dignity for the baby, and assist in closure for the family.
With a Certified Baby Loss Doula on staff, we offer non-medical information helping support those suffering pregnancy loss at all stages of pregnancy. We provide support and information, and if the family wishes, we can also provide a small casket or urn at a minimal cost.
Why we sell products
Burying the dead is a Corporal Act of Mercy. At Heaven's Gain, part of our mission is to provide a product that reflects the dignity of the deceased baby – at whatever stage – to help and bring the family closure and peace. When someone loses a child no matter the age, they have an opportunity to do something special for that baby. We believe in the dignity that comes with providing a beautiful final resting place for a baby. A proper burial is a show of dignity for the baby, a sign that he or she is treasured, and a preservation of his or her memory.
Our Philosophy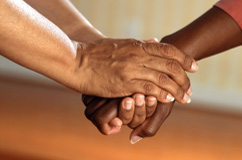 The objective of our business is to provide information, services, and high quality products to families suffering the loss of a miscarried child or early stillbirth. We try to meet many of the non-medical needs of our clients. Our products were developed to allow for handling and burial of a tiny baby consistent with how we handle other losses in our society.
This is a home-based ministry. The items you see are created and stocked in our home. We pride ourselves on being able to provide information, services, and personalized items quickly to a family suffering the loss of a precious baby.