Advocate for Parents of Perinatal Loss (APPL)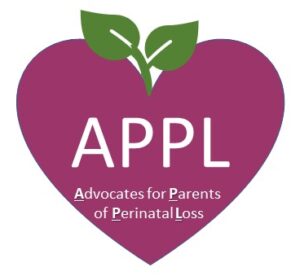 A Certification by Heaven's Gain Ministries
Heavens Gain Ministries has two training options for those seeking to help parents with pregnancy loss. The first is the extensive certification training developed to prepare Advocates of Parents of Perinatal Loss or APPL's to address the needs of parents before, during and after the loss of a baby of any gestation. The second is APPL: First Bite, a condensed introductory class focusing on serving those experiencing 1st trimester loss.
Over 1,000,000 women experience pregnancy loss in the United States each year affecting 1 in 4 pregnancies.  To address the needs of your clients who face the loss of their babies due to miscarriage or stillbirth, please consider attending one of our training opportunities.  We recommend that your entire staff receive APPL: First Bite training while a limited number of select staff members become certified as Advocates for Parents of Perinatal Loss (APPL's). Please contact us with any questions.  
Details of each training is described below.
Training
2023 APPL Full Certification Training Dates:  September 21-22, November 3-4, (in Sidney, Ohio), and November 9-10.
Full Certification APPL Training
The Advocates for Parents of Perinatal Loss (APPL) Certification Program is a 12-hour course which is specifically designed to instruct advocates in non-medical methods of supporting parents experiencing the loss of a baby in any trimester: miscarriage, stillbirth, or poor prenatal diagnosis. This comprehensive training educates client advocates to serve parents experiencing pregnancy loss: before, during, and after the delivery of their precious baby.
The cost for this training is $500 per student which includes the reading material, a miscarriage kit, 12 hours of in-class instruction, and phone support throughout the first year. Heaven's Gain APPL instructors are available to travel to your location for 30 or more attendees. We, also, offer training at our HGM office in Cincinnati, Ohio. This program is $500 for each person as opposed to $500 for the entire staff of your pregnancy center for the APPL: First Bite introductory on-line training.
Certification requires preparation before attending class:
Required Reading
9 small books
APPL Program Binder
Several pamphlets and brochures
Required Reading Assessments
Videos
Class time
12 hours of in-class training
*To be fully certified, all requirements above must be met along with the submission of 2 birth plans.
The APPL Certification program includes all that the introductory APPL: First Bite program includes plus so much more:
Hands-on demonstration of the miscarriage kit
Preparing client for miscarriage in the hospital
Preparing clients for stillbirth in the hospital
Preparing clients for Poor-prenatal diagnosis
Offering clients informed choices in creating memories with their baby
Offering clients choices in creating mementos of their time with their baby
The benefits of journaling before and after delivering a baby with a poor-prenatal diagnosis
Creating various individualized birth plans for clients
How to offer advocacy during the client's time in the hospital
State laws on miscarriage/stillbirth and parental rights to their child's remains
Disposition choices in pregnancy loss
Referrals for financial help with disposition of the baby's remains
Stages of grief and how they vary in pregnancy loss vs. other losses
Case studies
Research in pregnancy loss
Prevention of future pregnancy loss
Pregnancy loss support groups: benefits and problems
How to start a pregnancy loss support group in your center
How to support a rainbow pregnancy (pregnancy after a loss)
Supporting pregnancy loss clients through Christ- the ultimate healer
APPL First Bite 2-Hour Introduction
Our Advocates for Parents of Perinatal Loss (APPL): First Bite 2-hour introductory class is entirely virtual and may be held in combination with multiple pregnancy centers.
The APPL: First Bite training includes:
Understanding the grief of a client who was abortion minded but nowgrieves the loss of her child to miscarriage or stillbirth
What to say when you do not see a heartbeat
What phrases are healing
What phrases are harmful
How to promote the dignity of the baby
How to acknowledge your client's grief
How to explain the three options in first trimester miscarriage
How to introduce a miscarriage kit
Proper use of the miscarriage kit
If requested, this training can include the discussion of possible use of the miscarriage kit for clients insisting on using the abortion pill
Triggers and traumas connected to a miscarriage
Support for clients after the miscarriage
Rainbow pregnancies
The APPL: First Bite training for your entire pregnancy center is only $500
* Five miscarriage kits, valued at $125, are included within the cost of the APPL: First Bite training.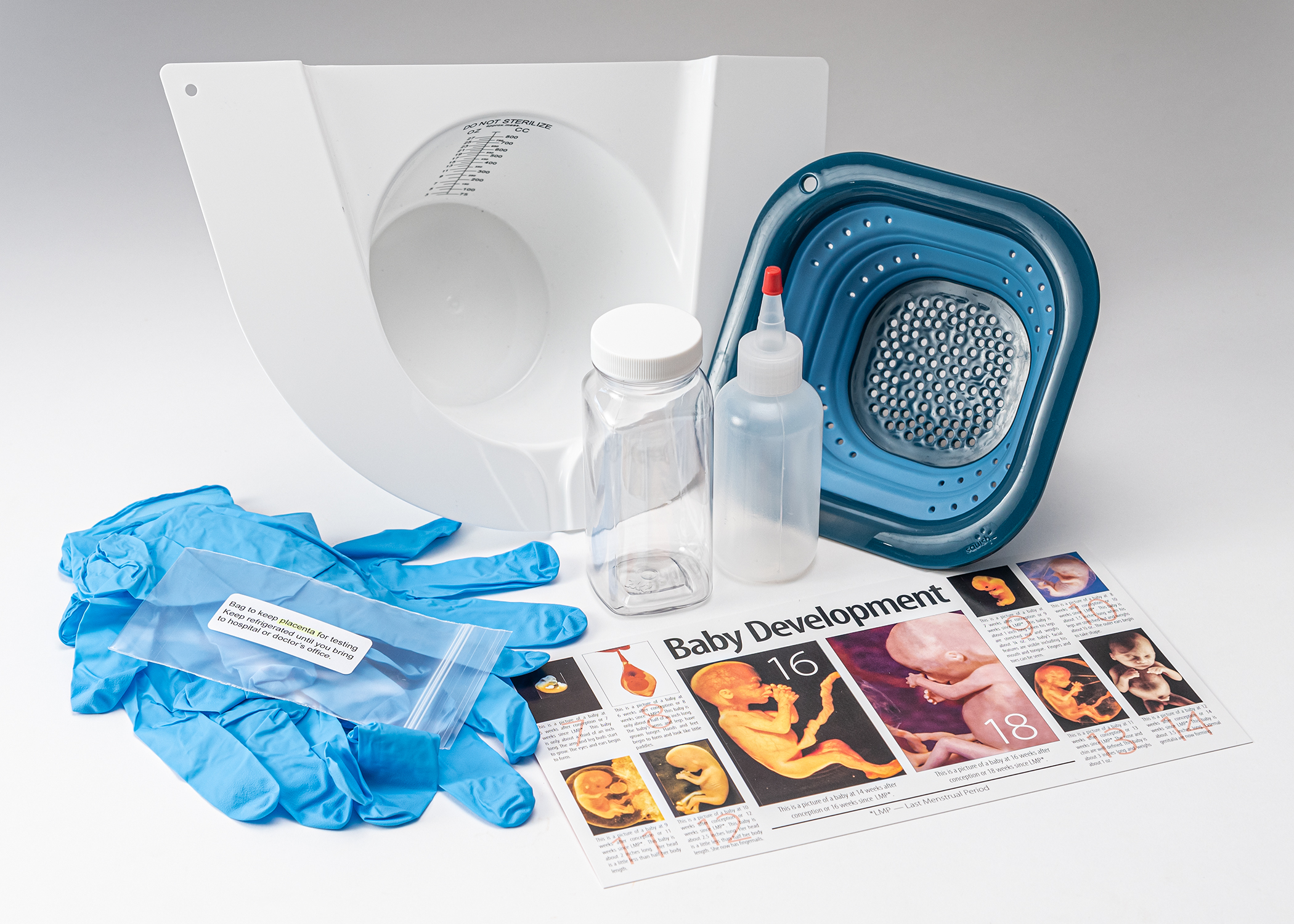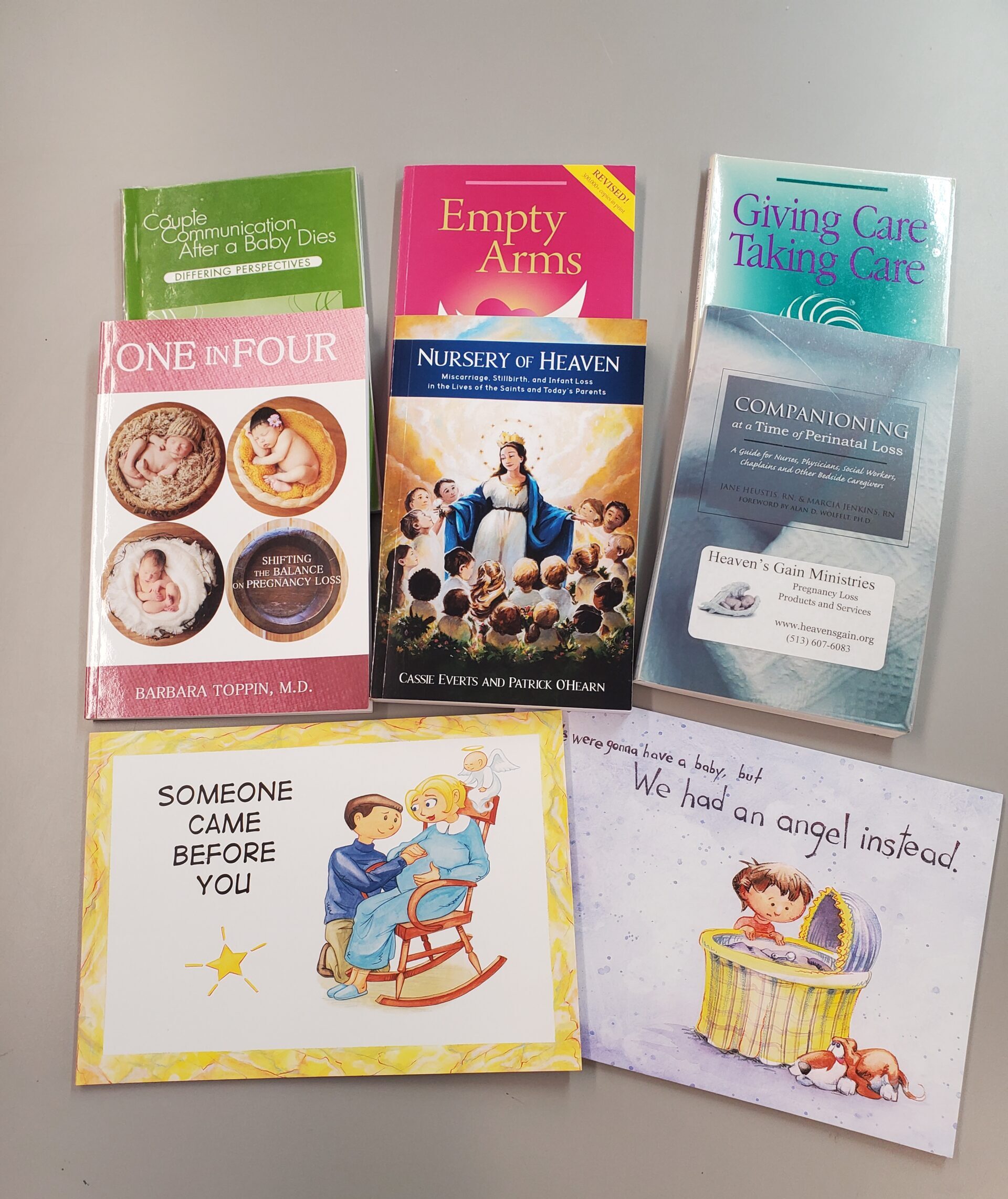 Before, During, and After Delivery
No Heartbeat, before delivery
APPL advocates will prepare parents for the birth of their baby once it is determined there is no heartbeat, and before they enter the hospital. Advocates meet with parents to alleviate anxiety and fears of the unknown. By receiving non-medical intervention, parents become empowered, ready to make the most of the short time with their child. Our trained advocates will work with the parents to create a birth plan. They will offer options that allow parents to make educated de-cisions to choose what memories and mementos they wish to create with their child.
During Delivery
APPLs will be trained to avail themselves for questions during delivery via phone or in person. They can advocate for their clients and help to make sure the birth plan is understood and fulfilled as closely as possible.
After Delivery
Advocates will be fully knowledgeable to assist parents with their disposition choices: burial or cremation. They can assist in the planning of a service or funeral. Advocates will understand they cannot take away the pain of losing a child, but they can help parents avoid additional trauma that happens if they are not prepared.
There is no time limit on grief. Even well after delivery, advocates are trained to offer peer support to couples and individuals.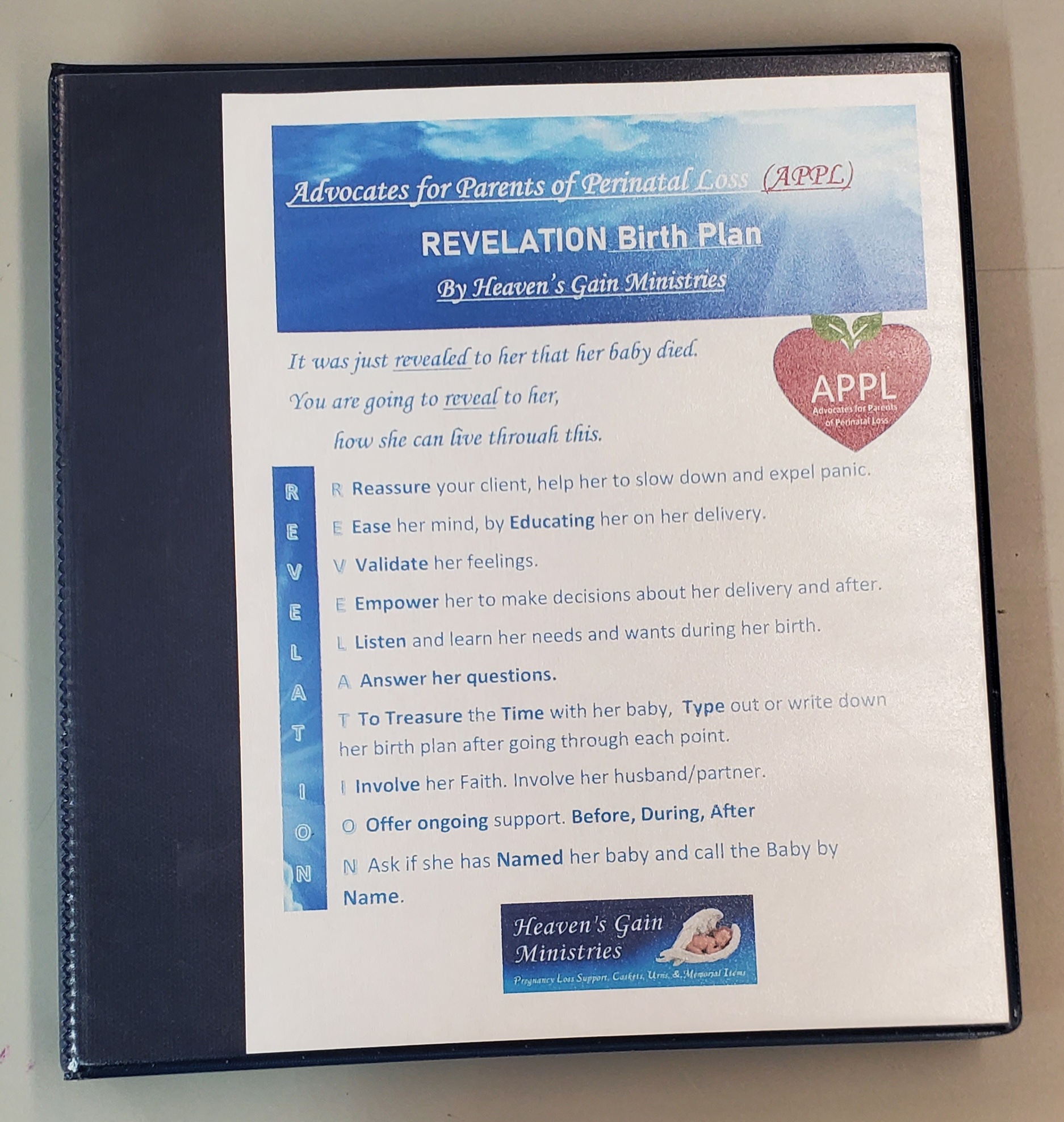 Revelation Plan
It was just revealed to her that her baby died. You are going to reveal to her how she can live through this.
Reassure your client, help her to slow down and alleviate panic.
Ease her mind by Educating her on her delivery.
Validate her feelings.
Empower her to make decisions about her delivery and after.
Listen and Learn her needs and wants during the birth.
Answer her questions.
To Treasure the Time with her baby, Type or write down her birth plan after going through each point.
Involve her faith and husband/partner.
Offer Ongoing support; before, during, and after birth.
Ask if she has Named her baby and refer to her baby by Name.
HGM's mission is to provide for the physical, emotional, and spiritual needs of families experiencing pregnancy loss: before, during, and after the delivery of their precious baby.
APPL Non-Discrimination Statement
Advocates for Parents of Perinatal Loss (APPL) training is Christian based. APPLs will emerge trained in non-medical methods to help grieving families of all faiths or for those with no faith.
Heaven's Gain Ministries' APPL instructors and advocates do not discriminate by faith, age, skin color or sexual preference.
As we serve parents, APPLs will not push religious beliefs. It is our goal that our trained APPLs exemplify Christian love for the families and their precious children as they support and advocate for them.