Helping Others
Jim and I have been running Heaven's Gain as volunteers since 2008. This began as our personal ministry, and has grown so much since our early days. We hope to help as many people as possible who are touched by pregnancy loss. We now have several volunteers and a board to guide us in maximizing our ability to serve families and provide resources.
Heaven's Gain Ministries is a charitable organization that is tax exempt under section 501(c)(3) of the Internal Revenue Code. We welcome your tax deductible donations, and will use them so we can serve every client with our products and services. We strive to support all families touched by pregnancy loss, regardless of financial position.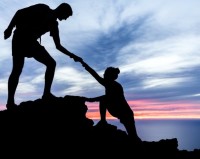 Buy It Forward
If you prefer to donate and have your money go directly to a specific hospital, you can help other grieving families by buying caskets and donating them to a local hospital, clinic, or doctor's office. You can also donate the money for a casket or urn, and we will give a needy family the casket or urn that you wish to donate. Some people give us a donation, and we determine what casket to donate according to our clients' needs.
We call this our "Buy It Forward" program. The Buy It Forward program is your opportunity to help families who experience baby loss.
If desired, we can put a card inside stating, "This casket was donated in honor of (baby's name)." When you donate, we will provide the ground shipping for free. Please write the name and address of the hospital to where you would like us to send a casket or urn in the comment area at check out.
You may be able to have the hospital send you a tax deductible form for your donation of a casket(s). Thanks for considering this opportunity to give.
Need Help
After giving away many caskets to many families, we recognized that we had exposed ourselves financially.
To support our ministry, we pay others to make the casket and urn boxes before we craft the interiors, and
try to keep costs to a minimum by volunteering our time. The space in our home that we use, combined with
the many, many hours of volunteer time is our donation to the dignity of angel babies and their grieving families.
In the past, we had donated caskets out of our own family's budget. In order to protect ourselves, it is currently our policy not to give away product in advance of a donation. If you are truly in need, please contact us to determine if a donation is available. We can only offer a casket/urn if there are donated funds available.
To better serve families in financial need, we have also partnered with Skyler's Gift Foundation, Star Legacy Foundation, and Twin to Twin Transfusion Syndrome Foundation. These organizations determine if someone is truly in financial need, and then offer assistance.
Pertinent information for these organizations can be found below. If we do not have funds available, please contact them for assistance with your baby's casket, urn, funeral, or burial.
Please know, we are always available for consultation whether or not we provide your family a casket or urn. You are always welcome to contact us at heavensgain@heavensgain.com.
For those experiencing financial difficulty with burial, funeral, or cremation of your baby Skyler's Gift Foundation
http://skylersgift.org/
Requirements for Skylers gift Foundation:
Your baby was born at or after 22 weeks.
Applications for assistance cannot be past 14 days from the day the baby passed away.
Can prove financial need.
The baby was under 6 months of age when he/she passed away.
Star Legacy Foundation
http://starlegacyfoundation.org/
Twin to Twin Transfusion Foundation (only for twins deceased due to twin to twin transfusion syndrome)
https://www.tttsfoundation.org/
Kisses 2 Heaven for Families in Montana
http://www.kisses2heaven.com/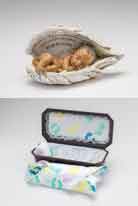 Thanks to our many doners for providing funds so that local hospitals can purchase caskets and urns at a significantly reduced price. Thanks to this combined effort a casket or urn is available for many families who cannot afford one.