1st Trimester Miscarriage Caskets
At Heaven's Gain Ministries, we offer various sized baby caskets for loss at all gestations of pregnancy. We are a ministry of volunteers and missionary workers who choose the appropriate exterior and carefully craft the interiors of these lovely miscarriage caskets. Our crafters give of their time, often because they themselves, a family member, or a friend has lost a baby. Be assured these small baby caskets are made with so much love and care.
Click any picture for more information.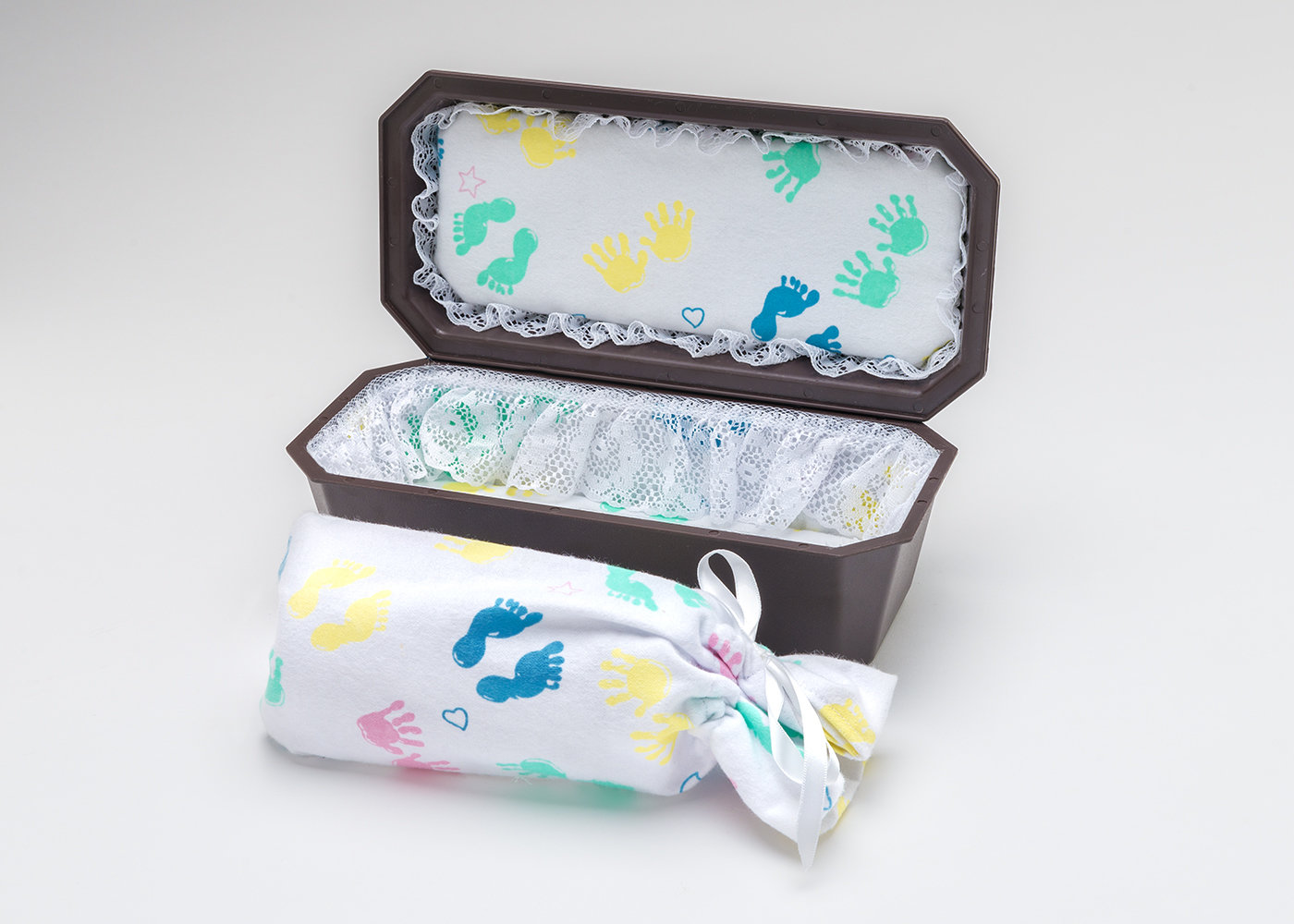 Why we sell products
Burying the dead is a Corporal Act of Mercy. At Heaven's Gain, part of our mission is to provide products that give dignity to the deceased baby – at whatever stage – to bring the family closure and peace. When parents lose a child, no matter the age, they have only one opportunity to do something special for that baby. They can preserve their baby's memory by giving them a beautiful final resting place that emphasizes how much they are treasured, and even though small, deserve great dignity.
Why we offer information
Our ministry, Heaven's Gain, provides help to those suffering a death of a baby whether it be due to miscarriage, premature birth, or newborn death. Our goal is to support the family in their time of grief, to acknowledge the dignity of the baby, and to assist in closure for the family. With a Certified Baby Loss Doula on staff, we offer non-medical information helping support those suffering pregnancy loss at all stages of pregnancy.
Thank you for all of your help and support throughout our difficult ordeal. I miscarried my triplets at 13 1/2 weeks. I was so thankful that I stumbled upon this website since I knew we wanted to bury the remains of our 2 boys and girl.
After our sudden loss, we didn't know what to do or what our options really were. All we knew was that we wanted to have our babies laid to rest somewhere so we would know where their remains would be, and we could have a place to visit them.
I can't say enough about how much my husband and I appreciated all of the assistance, along with the immediate information & support that Heaven's Gain & Donna Murphy gave to us. It was such a blessing during such a dismal time.
We purchased the walnut casket, and when it arrived, we both commented on how beautiful it was (much more so than the urns which were all that the funeral homes seemed to have available). It gave us a sense of closure and peace of mind knowing that our babies would be laid to rest together in their beautiful casket. Thank you again for all your help. I learned so much from this website, and would recommend Heaven's Gain to anyone I cross paths with who may have to deal with such a difficult and painful loss.
Thank you so much for everything. We received our shipment yesterday, and it is beautiful.
The love and compassion I felt from you, perfect strangers, is God working through you and I am so grateful. You truly touched my heart. This is obviously so much more than a business to you, and it shows. I am so sorry you ever had to endure the pains of a miscarriage, but this has to be one of the ways God pulls the good out of our sufferings.
Thank you so much. You are a blessing. May He continue to bless you and fill you with His Grace.
Stay warm! Love,
On the Heaven's Gain website, I went to the Contact Page, and e-mailed and asked if someone could call me as soon as possible. Five minutes after I sent my e-mail, I got a call. This could not be an easy ministry to run, but I am grateful for providing these affordable little caskets. If I had not found your website, it would have been so hard to do what is right for our baby's body. I am so glad that finding the casket was easy. I had no energy to focus on looking for one for hours. You are a gift from God to families that have to go through the pain of losing a baby through miscarriage. Thank you for your ministry, you provided us with so much relief during the hardest day of my life.
I had to write and thank you for what you are doing. It is never easy to lose a baby, but you have helped me know how I can deal with my sweet boy's tiny, frail body. I am so grateful to have gotten to see him when I miscarried at 10 1/2 weeks – so grateful – but I was entirely at a loss what to do with his tiny frame. I could not conceive of anything less than a burial, but had no idea how to go about it. An old shoe box under the tree in the yard, while fine for a canary, seemed so inappropriate for my son. You have helped me to understand what I can do to take the next step in healing and helping my other children find peace and closure. Thank you from the bottom of my heart. God bless you!
I was happy to order a casket from Heaven's Gain, but never felt pressure to buy. I knew from the moment Donna answered the phone, she only wanted to help my wife and I any way she could. The casket was beautiful, and we were very pleased with our experience with Heave's Gain.
I was so excited to recieve your plastic casket for our ministry here at Embracing Fresno. The plastic miscarriage casket is much sturdier than I had imagined. The casket is much more beautiful in person than what I could see in the pictures on your website.
You are not alone
One out of every four to five babies are miscarried. Parents who have lost a baby in miscarriage are still parents to that child. The baby just resides in a different place, which we believe is heaven. We are here to help. Please read our information pages for more help or give us a call (513) 607-6083.